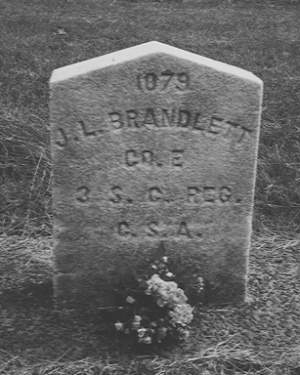 Prisoner Cemetery Grave #1079
J. L. Brandlett
[John L. Bramblet (Bramlet), Private]
Co. E
3 S. C. REG.
C. S. A.
(23 Aug 1828 -- 22 Apr 1864)
Probably a son of Lewis Bramlett and Catherine Brown
Confederate Cemetery, Arsenal Island, Rock Island, IL Federal Prison Enlisted at: Camp Hampton, Columbia, SC, January 2, 1862 Captured: Knoxville, Tenn., December 18, 1863* Died: Rock Island, Ill., April 22, 1864, of chronic diarrhea On Last Roll: May/June 1864 Remarks: *Reported missing by company at Battle of Bean Station, Tenn., December 13, 1863.